Overview
🔖 Latest version: ⏳
📅 Release date:

⏳

📆 First release date:

⏳

⬇️ Release downloads:

⏳

⏬ Total downloads:

⏳

⏬ Weekly downloads:

0

📊 Release count:

⏳
# Input Shaping Plugin
# Overview
Input shaping describes a set of algorithms to reduce ringing frequencies that inevitably occur due to hardware factors in 3D printers. In order to isolate what frequencies affect a machine the most, an accelerometer (opens new window) may be used. This plugin visualises the ringing frequencies, allows you to see the impact of various input shapers and fine tune them.
# Plugin installation
Starting from DWC 3.4 the Input Shaping plugin can be installed to fine-tune input shaper parameters using an accelerometer.
To install the Input Shaping plugin, download the latest release version for your RepRapFirmware version as a .zip file, without unpacking it, and upload it using the Upload&Start button on DWC without unpacking the file first. After this, you should see the Plugins category with a new Input Shaping item in the main menu on the left: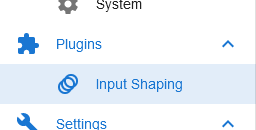 Before you can start recording samples, you must have an accelerometer connected and configured (see also M955 (opens new window)). If you already know the frequencies you wish to cancel out, an accelerometer is not required.
# Documentation
Please see the official docs (opens new window) for further information.
Overview
🔖 Latest version: ⏳
📅 Release date:

⏳

📆 First release date:

⏳

⬇️ Release downloads:

⏳

⏬ Total downloads:

⏳

⏬ Weekly downloads:

0

📊 Release count:

⏳